Closed Spontaneous Rupture of the Flexor Tendon in Zone 3: A Case Series
Keywords:
spontaneous rupture, closed rupture, flexor tendon, agricultural task
Abstract
Purpose: The pathophysiology of spontaneous rupture is not fully understood. Spontaneous rupture has been questioned, as some authors have stated that most spontaneous ruptures cannot be attributed to a cause or have not yet been investigated. Zone 3 was the most common place for flexor tendon ruptures to happen on their own, but the risk factor was not found.
Methods: From 2019 to 2022, we recorded four cases of closed rupture of the flexor tendon in zone 3 caused by agricultural activity. The history of all patients such as steroid injections, pain, and underlying conditions, was reviewed. Some parts of the tendon, debrided from the injury site, were sent for pathologic examination. The final range of motion and activity were recorded.
Results: All our patients had acute symptoms while gripping tools and excavating dirt during gardening. All flexor tendon ruptures occurred in zone 3, and were repaired by core and epitendinous suture. There was no actual condition believed to be the cause of the rupture. All patients achieved nearly full range of motion in the final follow-up.
Conclusions: A firm grip while performing agricultural tasks appears to be a risk factor of closed rupture flexor tendon. Although it is uncommon for a closed rupture of a flexor tendon injury to occur without ascertainable causes, this condition should be recognized while facing weakness or an inability to flex the finger.
References
Boyes JH, Wilson JN, Smith JW. Flexor-tendon ruptures in the forearm and hand. J Bone Joint Surg Am 1960;42-A:637-46.
Patel AP, Wong KY. Spontaneous flexor tendon rupture in the palm. BMJ Case Rep 2015;2015: bcr2014208141.
Ostric SA, Russell RC, Petrungaro J. Closed zone III rupture of the flexor digitorum profundus tendons of the right index, long, and ring fingers in a bowler: Gutterball syndrome. Hand (N Y) 2010;5:378-81.
Lee JS, McGrouther DA. Are flexor tendon ruptures ever spontaneous? - A literature review on closed flexor tendon ruptures of the little finger. J Hand Surg Asian Pac Vol 2019;24: 180-8.
Benjamin M, Toumi H, Ralphs JR, et al. Where tendons and ligaments meet bone: attachment sites ('entheses') in relation to exercise and/or mechanical load. J Anat 2006;208:471-90.
Netscher DT, Badal JJ. Closed flexor tendon ruptures. J Hand Surg Am 2014;39:2315-23.
Bois AJ, Johnston G, Classen D. Spontaneous flexor tendon ruptures of the hand: case series and review of the literature. J Hand Surg Am 2007;32:1061-71.
Masaki F, Isao T, Aya Y, Ryuuji I, Yohjiroh M. Spontaneous flexor tendon rupture of the flexor digitorum profundus secondary to an anatomic variant. J Hand Surg Am 2007;32:1195-9.
Davis C, Armstrong J. Spontaneous flexor tendon rupture in the palm: the role of a variation of tendon anatomy. J Hand Surg Am 2003;28:149-52.
Manske PR, Lesker PA. Flexor tendon nutrition. Hand Clin 1985;1:13-24.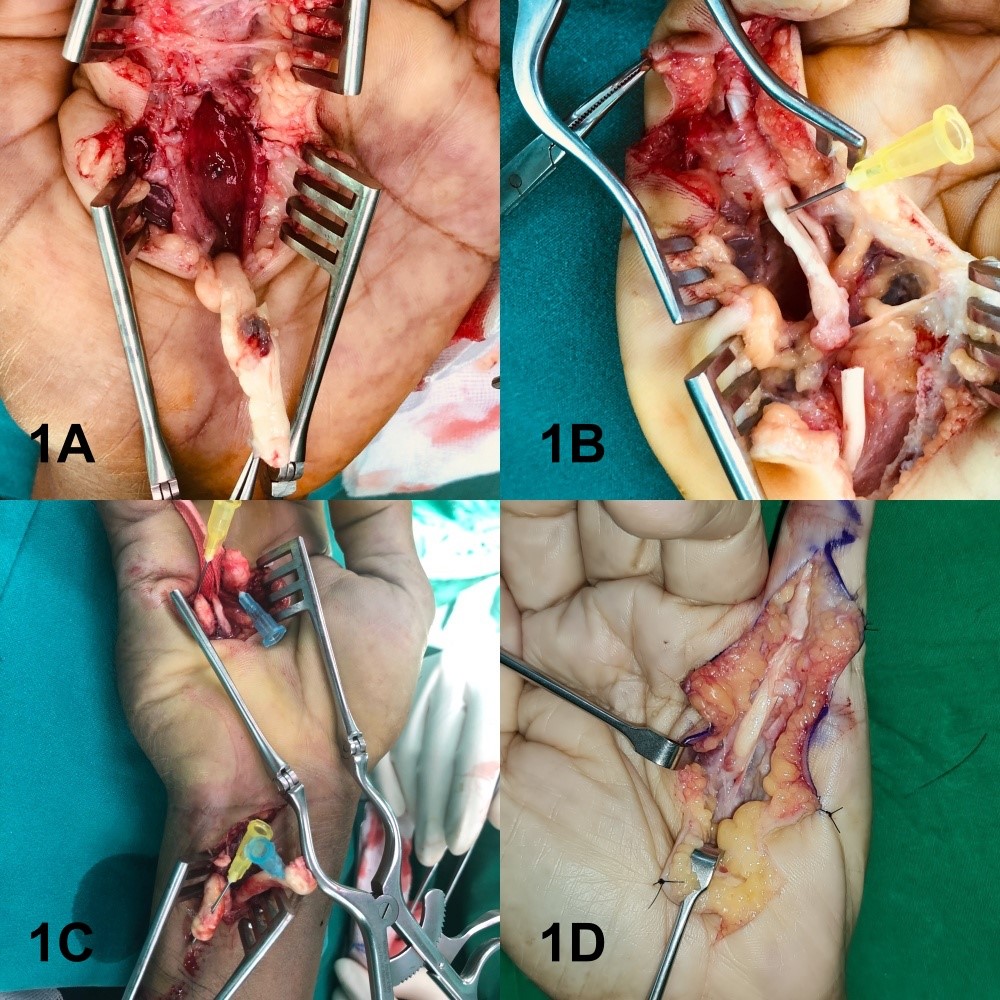 Downloads
How to Cite
1.
Thitiworakarn, MD N, Vinitpairot, MD C, Jianmongkol, MD S. Closed Spontaneous Rupture of the Flexor Tendon in Zone 3: A Case Series. JseaOrtho [Internet]. 2022 Jul. 28 [cited 2023 May 31];46(2):39-43. Available from: https://www.jseaortho.org/index.php/jsao/article/view/24
License
Copyright (c) 2022 The Royal College of Orthopaedic Surgeons of Thailand
This work is licensed under a Creative Commons Attribution-NonCommercial 4.0 International License.